Features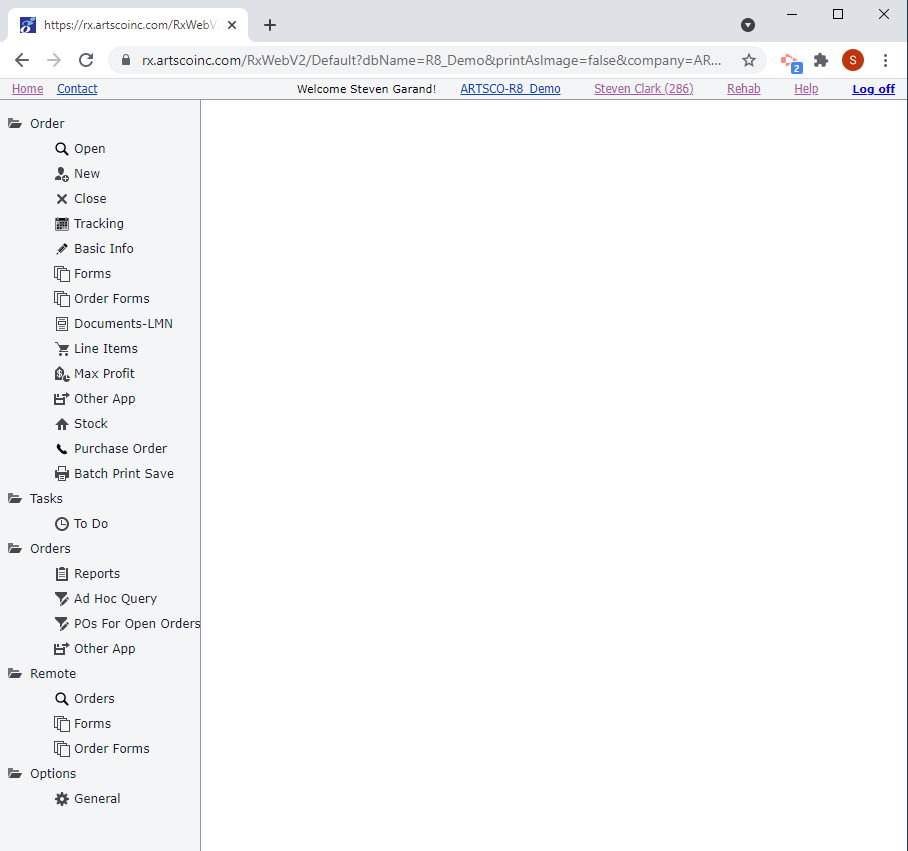 RxWeb shown above, and RxAdmin run on the latest version of popular browsers including Chrome, Safari, Edge, and Firefox. The applications will run on any computer that supports these popular browsers including Windows10, Mac, iPads, Surface tablets, and Android tablets.
Use RxWeb to operate the system and RxAdmin to set up and maintain the system.
Click directly on the desired menu feature first and all required windows will automatically pop up. For example, after opening the software, click first on the 'Basic Info' menu item and the login prompt will pop up followed by the open order window before finally opening the Basic Info window.
The applications will not run on older browser versions including any version of Internet Explorer. Running the application on a phone is not supported.
Top Header Bar

Home - Clear any open order
Contact - ARTSCO contact information
Database - Customer name
Order - Shows patient name and order number of open order - Also a shortcut to choose a new order
Options - Shows selected market type - Also a shortcut to the general options page
Help - Opens the search base help file - type in any word to show related help pages
Log off - Click when finished using the application.
Left Menu
Order - Features for the current open order

Open - Find and open an existing order
New - Create a new order
Close - Close the current open order
Tracking - Order workflow - System prompts when to start tasks - Edit pending and completed tasks
Basic Info - Maintain, patients, physicians, therapists, facilities, referral sources, ATP's, and any other custom team members - maintain notes, insurances (including coordination of benefits (COB)), ICD codes, and patient current equipment
Forms - Fillable forms - Pre filled with order data
Order Forms - Fillable manufacturer order forms with built in coding, insurance reimbursement, dealer cost, and MSRP
Documents-LMN - Store photos, word documents, spread sheets or any other file with a patient or order - Generate and edit LMN files from an order data
Line Items - List of information associated with selected equipment including description, coding, insurance reimbursement, dealer cost, and MSRP

Edit - Modify equipment information directly in a grid
Edit Advanced - Modify equipment information on a page - includes some editing capability not included in the standard grid edit feature above
Delete - Delete equipment selections
Update - Update equipment information based on the latest insurance and manufacturer information - Recommend using this before ordering from the manufacturer or billing from the customer
Import - Import manufacturer quote file to generate the equipment list instead of selecting options on the system order forms - also used to import often used equipment configurations (see Export)
Open Form - Shortcut to open the order form associated with the equipment
Export - Creates often used configurations for a wheelchair (see Import)
Hide - Hides (or un-hides) equipment - Hidden equipment will not show on forms
Justify - Manually select justifications to show or hide prior to generating the LMN
Bundle - Set one equipment line to the sum values of other equipment lines and set the other line values to $0.00
Bundle Code - Set the equipment line to bundle to
Bundle Clear - Clear bundling and set all equipment back to the original values
To Top - Reorder selected equipment to appear as the first item in the list
Move Up - Reorder selected equipment to appear one higher in the list
Move Down - Reorder selected equipment to appear one lower in the list
Default Order - Reorder all equipment to the original position in the list
Make Copy - Generate an equipment line based on an existing equipment line

Max Profit - Allows viewing appropriate equipment based on selected HCPCS codes - view a list of qualified equipment across all vendors sorted by your profit margin
Other App - Communicate with other applications such as Brightree and TeamDME
Stock - Generate requests to pull from inventory
Purchase Order - Generate purchase orders
Batch Print Save - Print a batch of selected forms and order forms in a single operation

Tasks

To Do - Reminder of everything needed on all orders and when they should be done - provide a shortcut to open the associated order

Orders

Reports - Run standard or custom reports to help track and improve your business
Ad Hoc Query - View your data without the time and expense of a custom report
POs For Open Orders - Manage PO's for all open orders
Other App - Interface with other applications across orders

Remote

Orders - Set orders available offline
Forms - Set forms available offline
Order Forms - Set Order Forms available offline

Options

General - Set market type, offline options, and printing options
---
---