Report For Profit Margin
Shows the sum and breakdown of allow values, retail values, cost values, and profit margin for each RTS - Specify the work flow task completed date of Delivered or Billed to use with the date range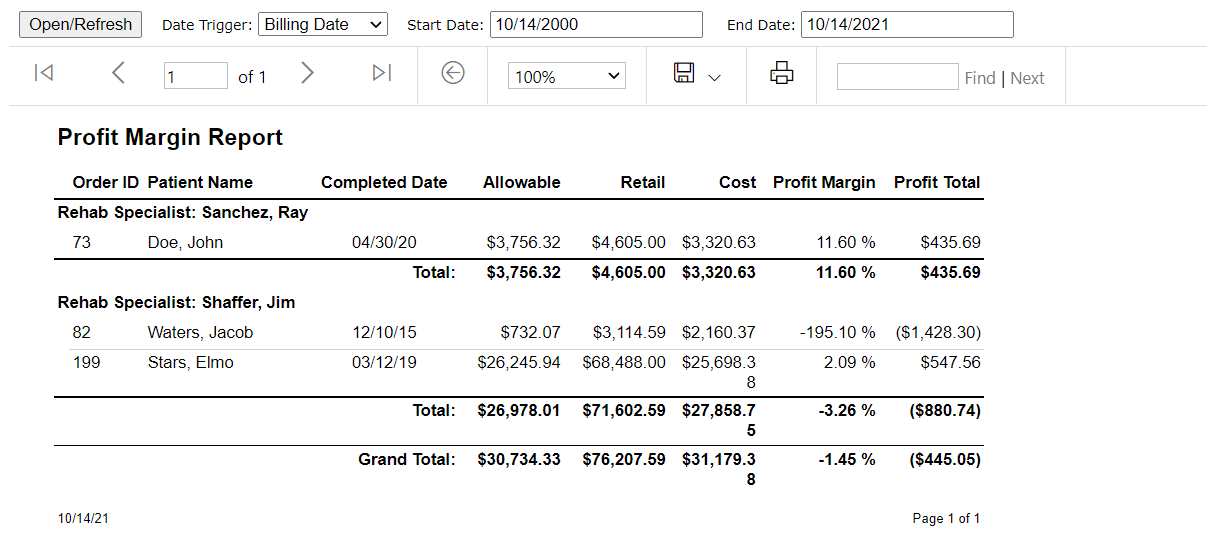 Input Parameters:
Date Trigger - Determines the meaning of the Start Date & End Date parameters.

Billing Date - Use sent to billing task completion date.
Delivery Date - Use equipment delivered task completion date.

Start Date & End Date - Orders billed or delivered date (depending on the Date Trigger parameter selected) between the Start Date and End Date are shown.
Groups:
RTS - Sorted By RTS Last Name, First Name
Order - Sorted By Patient Last Name, First Name
Details:
Patient Name
Delivery Date
Billing Date
Allowable
Retail
Cost
Profit Margin (Allowable - Cost) / Allowable
Profit Total (Allowable - Cost)
Group Totals:
Allowable
Retail
Cost
Profit Margin
Profit Total
Grand Totals:
Allowable
Retail
Cost
Profit Margin
Profit Total 
---
---